High-Speed SCARA Fastest In The Industry!
IXA Series
Offers better performance and
functionality than previous models.
1 IXA High-speed SCARA Achieve Fastest Cycle Times
2 Achieves a Lower Price
Our new SCARA robot is even more affordable than previous models.
Plus, it offers even better performance and functionality.
3 Low Vibration, Accurate Positioning
Higher rigidity and optimized control mean significantly less vibration while stopping.
4 Equipped with a Battery-less Absolute Encoder as Standard
There is no need to replace batteries and less maintenance.
5 Dust-proof / Splash-proof specification suitable for environment
Compliant to degree of protection of IP65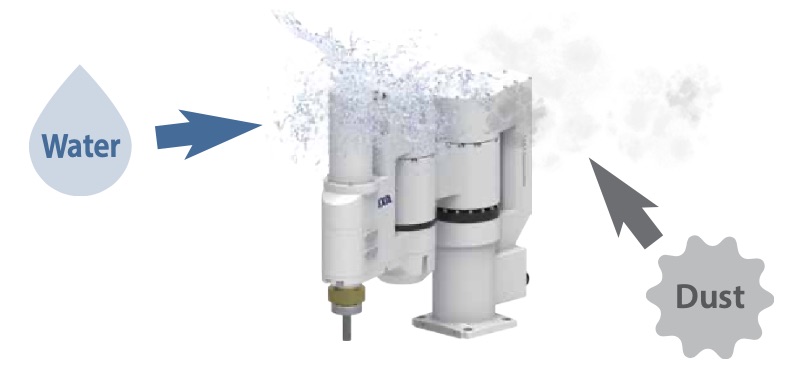 IP65

Solid particle
(Summary) dust-proof *
Dusts are totally shut out and do not ingress the main body.
Water
(Summary) Protection against water jet *
Direct water jet from any direction shall have no harmful effects.
*IEC 60529 / JIS C 0920
6 Mechanical Structure/Features
8 Control Functions by Controller
◾ Compliance control
It controls the robot motion softly by sensing external forces and supports fitting of the workpiece by reducing the contact force at the time of insertion.
◾ Collision detection function
If the SCARA robot detects a collision with an object, it stops the operation immediately.
It reduces damages on the gripper, workpiece and robot when a collision occurs.
* Please
click here
to see All Lineup Charts.
| IXA Main Lineup | IXA High Payload and Long Arm | IXA Cleanroom Type |
| --- | --- | --- |
| | | |
| | | |
* Please click here to see All Lineup Charts.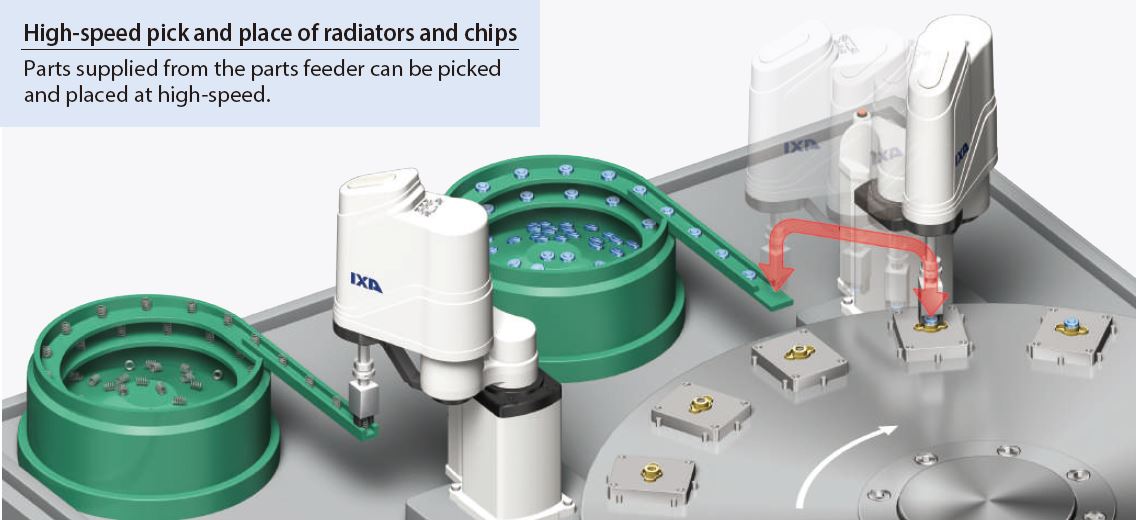 Type
Model
Number of axes
Arm length (mm)
Vertical stroke
(mm)
Standard
cycle time (s)
Continuous
cycle time (s)
Max payload
(kg)
1st arm
2nd arm
Standard
180mm Arm type
IXA-3NNN1805
3-axis
80
100
50
0.26
0.45
1
IXA-4NNN1805
4-axis
Standard type
IXA-3NNN3015
3-axis
120
180
150
0.38
0.55
3
IXA-4NNN3015
4-axis
IXA-3NNN4518
3-axis
200
250
180
3
IXA-4NNN4518
4-axis
IXA-3NNN4533
3-axis
330
IXA-4NNN4533
4-axis
IXA-3NNN6018
3-axis
350
250
180
6
IXA-4NNN6018
4-axis
IXA-3NNN6033
3-axis
330
IXA-4NNN6033
4-axis
Additional

Standard
Long Arm type

IXA-4NNN8020
4-axis
400
400
200
0.43
0.79
21
IXA-4NNN8040
400
IXA-4NNN10020
600
200
0.45
IXA-4NNN10040
400
High-speed type
IXA-3NSN3015
3-axis
120
180
150
0.26
0.45
8
IXA-4NSN3015
4-axis
IXA-3NSN4518
3-axis
200
250
180
10
IXA-4NSN4518
4-axis
IXA-3NSN4533
3-axis
330
IXA-4NSN4533
4-axis
IXA-3NSN6018
3-axis
350
250
180
12
IXA-4NSN6018
4-axis
IXA-3NSN6033
3-axis
330
IXA-4NSN6033
4-axis
Additional

High-speed
Long Arm type

IXA-4NNN8020
4-axis
400
400
200
0.29
0.56
24
IXA-4NNN8040
400
IXA-4NNN10020
600
200
0.32
IXA-4NNN10040
400
Dust-proof/
Splash-proof,
High-speed type
IXA-4NSW3015
4-axis
155
145
150
0.38
0.69
6
IXA-4NSW4518
200
250
180
0.55
8
IXA-4NSW4533
330
IXA-4NSW6018
350
250
180
0.57
10
IXA-4NSW6033
330
Please Click Here to Contact Us for Your Inquiry
Please Add Us to Your Networks