Tabletop Robot With Battery-less Absolute Encoder
TTA Series
AC Servo Motor Specification Now Available.
All Models Equipped with Battery-less Absolute Encoder as Standard.
Subscribe to our Email List to receive updates.
1.
Equipped with a Battery-less Absolute Encoder as Standard
All the conventional stepper motor types are equipped with a battery-less absolute encoder as standard.
An AC servo motor series is also now available.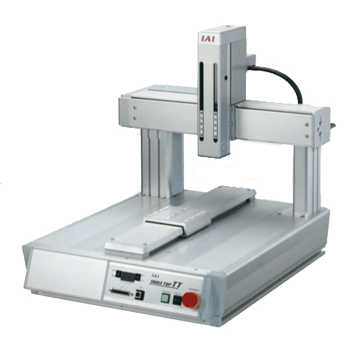 The advantages of using an absolute encoder.
With an absolute encoder, home-return is not required.
No external home sensor is required since home-return is not necessary.
Removal of items being worked on is not necessary, even after an emergency stop.
The troublesome creation of home-return programs is not necessary even when stopping inside of a complex machine.
The advantages of battery-less.
No battery maintenance required.
No installation space for battery required.
Reduced processes / Costs

Shortened startup / adjustment time

Increased production capacity
2.
New High-precision AC Servo Motor Series Added
The equipped AC servo motor dramatically increases performance.
We have a wide range of specifications, from payload-focused low lead specifications to speed-focused high lead specifications.

3.
Improved Positioning Repeatability and Lost Motion for Stepper Motor
Due to the built-in high-resolution battery-less absolute encoder, positioning repeatability and lost motion are improved.
4.
Manual Programming Is No Longer Required
The SEL Program Generator is a PC tool that automatically generates a SEL program and positioning data simply by drawing the operation path on the screen.
* The first version only supports the application operations.
Until now, Creating SEL programs and positioning data from scratch required a lot of processes and time.
Using the SEL Program Generator ...
The tedious work of program creation is eliminated for dramatically increased convenience.
• Reduced processes • Shortened time • Improved productivity
2 types of drawing methods can be used to create the operating path.
1. Reading DXF data
2. Drawing with the mouse
Furthermore, the created pathway and actual traveled path are displayed on top of each other to allow for corrections to be made.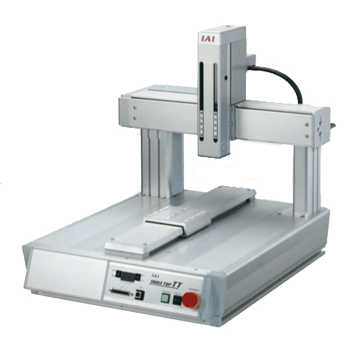 5.
Work / Tool Coordinate Systems
Two types of coordinate systems can be used:
Work coordinate system: the coordinate system defined by offsetting each axis from the base coordinate system (max. 32 types)
Tool coordinate system: the coordinate system defined by the dimensions (offset) of the tool (gripper, etc.) mounted to the tool mounting surface (max. 128 types)
&npsp;
* TB-01 is supported by Ver.1.50 or later, and PC compatible software is supported by Ver.12.03.00.00 or later.
6.
Expanded Serial Communication Port
Additional SIO module
RS232C and RS485 can be added.
Multiple channels of IAI protocol supported
The IAI protocol support makes communication with external equipment possible even when connected to a teaching pendant or PC software.
7.
External Equipment Can Be Controlled Easily
Output operation data has been added to the positioning data.
Signals for controlling external equipment can be easily output for each target position.
This eliminates the conventionally required time to create a program to send the signal.
* TB-01 is supported by Ver.1.50 or later, and PC compatible software is supported by Ver.12.03.00.00 or later.
AC Servo Motor Type Lineup
Model
TTA
Specification
Gate Type
A2SL: 2-axis low lead spec.
A2SLG: 2-axis low lead safety category spec.
A2SH: 2-axis high lead spec.
A2SHG: 2-axis high lead safety category spec.

A3SL: 3-axis low lead spec.
A3SLG: 3-axis low lead safety category spec.
A3SH: 3-axis high lead spec.
A3SHG: 3-axis high lead safety category spec.

A4SL: Low lead spec. w/ ZR-axis
A4SLG: Low lead safety category spec. w/ ZR-axis
A4SH: High lead spec. w/ ZR-axis
A4SHG: High lead safety category spec. w/ ZR-axis

X-axis/Y-axis
Stroke (mm)
200×200
(Cantilever)
300×300
400×400
500×500
200×200
(Cantilever)
300×300
400×400
500×500
200×200
(Cantilever)
300×300
400×400
500×500
Z-axis Stroke
(mm)
-
100/150
100/150
Specification
Cantilever Type
C2SL: 2-axis low lead spec.
C2SLG: 2-axis low lead safety category spec.
C2SH: 2-axis high lead spec.
C2SHG: 2-axis high lead safety category spec.

C3SL: 3-axis low lead spec.
C3SLG: 3-axis low lead safety category spec.
C3SH: 3-axis high lead spec.
C3SHG: 3-axis high lead safety category spec.

C4SL: Low lead spec. w/ ZR-axis
C4SLG: Low lead safety category spec. w/ ZR-axis
C4SH: High lead spec. w/ ZR-axis
C4SHG: High lead safety category spec. w/ ZR-axis

X-axis/Y-axis
Stroke(mm)
200×150
300×250
400×350
500×450
200×150
300×250
400×350
500×450
200×150
300×250
400×350
500×450
Z-axis Stroke
(mm)
-
100/150
100/150
Stepper Motor Type Lineup
Model
TTA
Specification
Gate Type
A2 (2-axis standard spec.)
A2G (2-axis safety category spec.)

A3 (3-axis standard spec.)
A3G (3-axis safety category spec.)

A4 (ZR-axis standard spec.)
A4G (ZR-axis safety category spec.)

X-axis/Y-axis
Stroke (mm)
200×200
(Cantilever)
300×300
400×400
500×500
200×200
(Cantilever)
300×300
400×400
500×500
200×200
(Cantilever)
300×300
400×400
500×500
Z-axis Stroke
(mm)
-
100/150
100/150
Specification
Cantilever Type
C2 (2-axis standard spec.)
C2G (2-axis safety category spec.)

C3 (3-axis standard spec.)
C3G (3-axis safety category spec.)

C4 (ZR-axis standard spec.)
C4G (ZR-axis safety category spec.)

X-axis/Y-axis
Stroke(mm)
200×150
300×250
400×350
500×450
200×150
300×250
400×350
500×450
200×150
300×250
400×350
500×450
Z-axis Stroke
(mm)
-
100/150
100/150
Please Click Here to Contact Us for Your Inquiry
Stay Informed by Following Us