IXP & IX SCARA Robots Series
---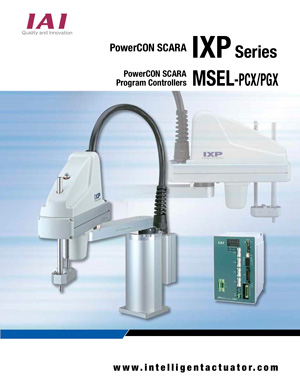 – New Product –



PowerCON SCARA IXP Series and MSEL Controllers

Catalog #: CJ0219-1A-UST-1-0814 (5.2 MB)
Pages: 20

Introducing the Cost-effective Pulse Motor Type IXP to the IX Series of SCARA Robots

1. Due to pulse motors, the IXP costs around 1/2 a conventional model
2. All models come standard with battery-less absolute encoders
3. The robot weights approx. 30% less than a conventional model
4. Added 3-axis specification and 4-axis gripper specification


– – – view more information – – –
Download PDF Catalog #: CJ0219-1A-UST-1-0814 (5.2 MB)
---
Off-the-shelf SCARA robots for every application
Cleanroom
Wall & ceiling mount
Water resistant
High speed
Longer z-axis
IX SCARA (Selective Compliant Assembly Robot Arm) robots are ideal for high speed, precision operations such as sealing, dispensing, parts insertion, assembly, and more.
[Watch SCARA Demo Videos]
With 16 new SCARA models, integrating the IX SCARA robots into your design and application is now easier than ever!
Easy to Use
No programming experienced required
Built-in palletizing
3D path capability
Easy to Integrate
Vision (compatible with all major vision systems)
Ethernet-ready
Cleanroom models
Wall & ceiling mount models
IX SCARA Models
SCARA Stroke (mm)
SCARA Type
250
350
500
600
700
800
Standard SCARA
High Speed SCARA
Cleanroom SCARA
Water & Dust Resistant SCARA
Ceiling Mount SCARA
Wall Mount SCARA

300 mm
Longer Z-Axis SCARA
| | |
| --- | --- |
| | Available Now |
| | Coming Soon |
IX SCARA Robot Series Features
Best of Class variety of off-the-shelf SCARA robot models (cleanroom, water resistant, wall mount, & more)
X-SEL® controller for exceptionally easy programming, calibration and troubleshooting
Absolute encoders (standard)
Profibus, DeviceNet, CC-Link, & Ethernet Network Communication
Z-axis "Push" function for easy control of compression force and torque
Award-winning path control and 3D path capability
Interference check zones: User-defined outputs turn on when a zone is violated (you can set as many as 10 zones)
Easy connector access and cable management

I/O, pneumatic, and electrical connections conveniently positioned at the top of the unit for easy access
Hollow vertical Z-axis for convenient routing of electrical cables and pneumatic lines for end-effectors
Alarm LED lights located on the top face of the robot for clear and immediate indication of any problems
Brake-release button also located at top to facilitate manual teaching of points
SCARA Robot Specifications
With a current maximum horizontal reach of 800 mm and a maximum vertical reach of 300 mm, the IX Series SCARA robots features a maximum payload capability of 10 kg and a maximum speed of over 7000 mm per second.
Maximum speed of 7121mm/sec
Minimum cycle time less than 0.5 seconds*
Maximum rated payload of 10 kg
Full interpolated path motion capability
Minimum positioning repeatability of ±0.015 mm
Vertical axis with 200 or 300 mm stroke and 360° rotation
*Based on a 1″ upward move, 12″ horizontal move, 1″ down move and return using the IX-500-200 SCARA robot.


SCARA Controller Features
Using an enhanced version of IAI's SEL programming language (specifically designed for non-programmers), the acclaimed X-SEL® controller takes advanced applications and makes them plug & play easy.
You will dramatically reduce your engineering time and costs with the built-in-commands that simplify traditionally tedious programming tasks related to palletizing, dispensing, machine vision integration, and more.
Ethernet networking, high speed multi-tasking, synchronous drive control, infinite motion, expandable I/O and a unique "Push" function (for control of compression and torque) are just some of the benefits you get using the X-SEL® controller.


Truly User-Friendly Software
Assign your own names to all points & variables
Run operations line-by-line for easy fine-tuning and de-bugging
Control torque and compression with the innovative "Push" function
Teach just 3 points then use the "Palletize" command to have the controller calculate the rest
Comments are closed.