Industry: Medical / Food & Beverage
Process: Transfer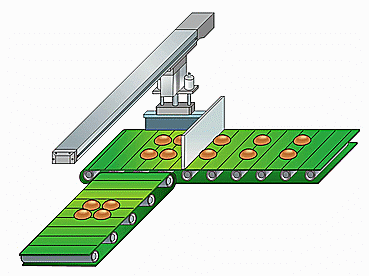 $52,800 saved yearly due to CT Effect
Equipment Overview
The equipment is for pushing bread on a conveyor belt sideways to transfer it to a sideways-moving conveyor belt.
There is a stopper in front of the device that pushes the bread sideways, and the stopper opens and closes in a set interval.
Problems with the air cylinder
The speed is unstable with the air cylinder, so when the speed was raised too much, the time it took to push the bread sideways after the stopper opened became too long or too short.
This caused problems like
The bread being pushed away from the set position
After pushing, the vertical axis not lifting in time during the return, causing contact with the bread
Such problems caused the bread to get smashed.
CT Effect due to motorization
By motorizing the process, the speed became unified and the movement became accurate. This made high-speed operation possible.
As a result, the cycle time (round-trip movement) reduced from 4.0 seconds to 2.3 seconds. Work time was reduced by 2 hours per day.
Three workers used to be placed on this line to maintain packing machines and restore the product when "Choco Tei" occurred in the process before and after the packing machine. Cost for these labors were reduced.
Unit Price of Labor,
Number of workers
Hourly wage $10, 3 people
Equipment Cost
Air cylinder equipment $800, ROBO Cylinder Equipment $2,000.
A $1,200 increase.
Labor cost reduction effect from shorter cycle time
Reduction: 2 hours/day x $10/hour x 3 people= $60/day

Annually = $60/day x 20 days/month x 12 months = $14,400 reduction
Total
$14,400 - $,1200 = $13,200 reduction

Since there are 4 lines, $13,200 x 4 = $52,800 annual reduction
Related product information
Actuators:
RCP2-SA7C, RCP2-SRGD4R
Controller:
PCON-C