RCP5 ROBO Cylinder® with Battery-less Absolute Encoder
as Standard Equipment
The RCP5 series actuator with battery-less absolute encoder, realizing the convenience of an absolute encoder along with the cost and simplicity of an incremental encoder.

The battery-less absolute encoder is an innovative encoder requiring no hassle or cost of battery replacement.

This encoder is ideal for the automobile industry and other production facilities where many absolute type actuators are used.



---
Shop-Floor Problems and Solutions
Air Cylinder
problems
Electric actuator
problem
(Incremental type)
Electric actuator problem
(Absolute type)
1
Reduced operation rate due to choco-tei caused by the auto switch failure or air pressure fluctuations
1
Long time required to return to home or for adjustment after an emergency stop is reset
1
Higher cost
2
Difficult to shorten cycle time due to the speed limit from the shock caused by a stoppage
2
Battery replacement time management required
3
Battery replacement labor and cost
Solved with
an electric actuator
(CT Effects)*
Solved with
the absolute type
Solved with
the battery-less
absolute type
1
Choco-tei significantly reduced
1
Home return not required
1
Battery not required
2
Speed increase now possible with no shock caused by a stoppage
2
Slider type offered at same price as the incremental type
Problems solved with the RCP5 Series!

The "CT Effects" refers to increased production output per unit time with "shorter cycle time" and "reduced choco-tei" achieved by re-examining the devices that are part of automation equipment.
Feature 1: Battery-less Absolute Encoder
What is an absolute encoder?

The home reference is lost when the power is shut down. This type of encoder will return to home before making a commanded move after a power cycle.

With this type, position data is retained even if the power is shut down and it can be started from the current position where the power is turned on.
What is a battery-less absolute encoder?

---

A battery-less absolute encoder is an absolute encoder that verifies the current position based on the interlocked gear position. On conventional absolute encoders, the current position was stored by using a battery. A battery-less type is now available making a battery no longer necessary to keep data in memory.

Advantages of a battery-less absolute encoder

---

Advantage 1:
More economical with no cost associated with battery replacement.
Advantage 2:
Battery replacement management is no longer required.
Labor for replacement work is also no longer required.
Advantage 3:
Battery installation space is not required.
Advantage 4:
Operation can resume with no adjustment required even when the cable between the controller and the actuator is replaced because the positional information is read each time.
Advantage 5:
No external sensor, such as a sensor to check the origin, is required since home return is not necessary.
Advantage 6:
IAI's slider type, even with the battery-less absolute encoder, is offered for the same price as the conventional incremental type.
Service life of a battery-less absolute encoder

---

The mechanical configuration of the battery-less absolute encoder offers a service life that is approximately four times the actuator guide's standard rating. Furthermore, it can be used with a sense of security because it will output an error when a certain amount of wear in the gear section is detected.
Feature 2: 1.5 times higher maximum speed and double the payload when combined with a
Power CON
Shorter Takt Time Significantly Boosts the Productivity of Your System
When the new controller equipped with our newly developed high-output driver (patent pending) is used, the maximum speed increases significantly by up to 1.5 times the levels achievable with IAI's conventional models, while the payload is greater by up to two times (*).
In addition to these amazing improvements, the maximum speed does not drop as much even when the payload increases due to increased torque with the high speed motor, meaning that the dynamic performance equivalent to that of a higher-class model can be achieved at lower cost.
(*) The specific rates of improvement vary depending on the model.
Multi-axis type is now available with a Power CON
The MSEP controller, now with a Power CON, is capable of operating the RCP5 in up to four-axis applications at high speeds 1.5 times the level achievable with the conventional models, and at least double the dynamic payload performance. Additionally, the standard type not combined with a Power CON can operate the RCP5 in up to eight-axis applications. Furthermore, it can move to a specified value via a field network.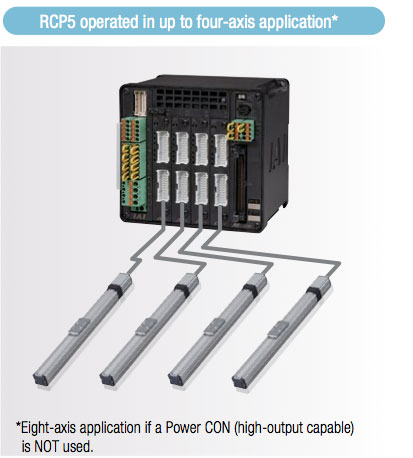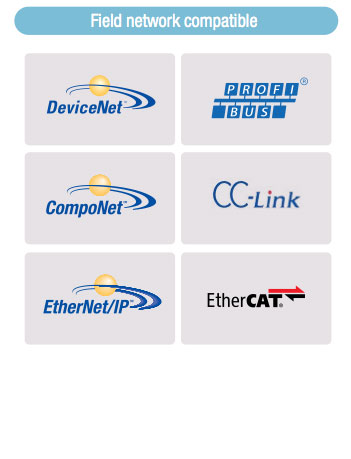 Feature 3: The Rod Type Can Carry

Radial Loads
The rod type with a built-in guide mechanism can carry radial loads over a long stroke of up to 800mm.
The rod type has a built-in ball circulating type linear guide mechanism in the actuator to carry radial loads applied to the rod over a long stroke of up to 800mm. The actuator can also support a radial load applied at a position offset from the center of the rod.
---
---
Please contact us by form or Call 1-800-736-1712 for more details!