We would like to share with you this Application Improvement Example.
Expiry Date Printing Equipment
Equipment Overview
Equipment for printing expiry dates on cardboard boxes packed with instant food products for shipping. (84,000 units / day)
Expiry dates are printed on the carton boxes aligned and placed in position.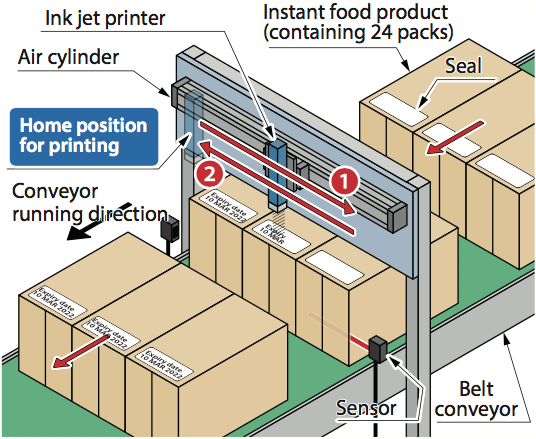 Previous equipment
➤ Cardboard boxes (3 boxes in a row) are transferred by conveyor and stop as a sensor detects them.
➤ An air cylinder equipped with an ink jet printer moves to direction ❶ during which printing is performed on the labels of three boxes.
➤ After printing, the air cylinder shifts to direction ❷ and moves the ink jet printer to the home position.
➤ The cardboard boxes are transferred to the next process.

Problems
➤ Because of improper start timing of the air cylinder, expiry dates were sometimes printed off the label.


➤ Due to speed fluctuations of the air cylinder, the expiry dates were sometimes printed off the label.

Countermeasures
➤ When a date was printed off the label, the conveyor had to be stopped to adjust the speed controller.
➤ Air cylinder adjustments and re-packing of products with improper printing (10 minutes) were carried out twice a day.
➤ There were 3 workers involved in the production line. While one worker was doing re-adjustment, waiting time occurred for the other two workers.
Improved Equipment
✪ The air cylinder has been replaced by an ELECYLINDER.

Improvements
✪ There is no delay in starting the ink jet printer .
✪ The ink jet printer can be operated at an optimum speed as specified.
✪ There is no need to re-adjust the start timing and speed of the ink jet printer.
✪ Non-productive wait time for the 3 workers has been eliminated.

Effects
After replacing an air cylinder with ELECYLINDER.
✪ The working hours has been reduced by 20 minutes per day.
Waiting time of 20 minutes per day for re-adjustment has been eliminated.
✪ Annual saving for labor cost is US $3,600.
US$15 x 20 minutes (10 min. x 2 times) x 240 days = US$3,600.
*Exchange Rate: 1 (USD) = 100 (Japanese Yen). (Condition: Labor cost US$15/hr, Annual operation 240 days.)
IAI Sales & Tech Support Lines
Please call IAI America from 8:30 am to 5:00 pm at these locations:
Eastern U.S. office: (678) 354-9470
Central U.S. office: (800) 944-0333
Western U.S. office: (800) 736-1712
Outside office hours, please use our contact form.